Bone Shredder Machine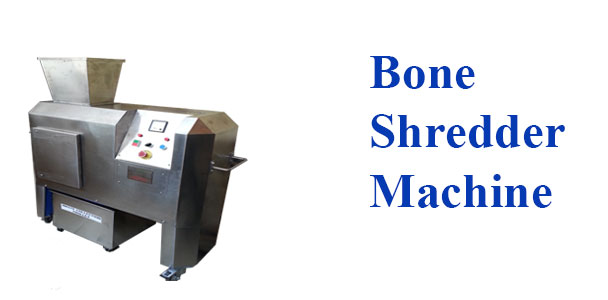 TECHNICAL SPECIFICATIONS
Feed Width
200mm [or as per client's requirement]
Shredding Size
10mm to 12mm [uneven sizes]
Weight
175kgs net / 250kgs with wooden packing
Electrical Load
2HP A/C geared motor 415 volts 3 phase
Overload Protection
Control panel provided with D.O.L. starter
Dimension
L 1050 x W 400 x H 1650
Duty Cycle
Continuous
Output Capacity
80-100kgs/hr
Warranty
1 year for machine
Raj Electricals manufactures Bone Shredder Machine or Two Stage Shredder. Bone Shredder shreds bones and food waste thus helping in food waste management. It is also used as garden waste disposal to dispose of garden waste. Shredder Machines from Raj Electricals are customized to suit the customer's requirement.
Salient features of Bone Shredder Machine (also called as Two Stage Shredder):
User friendly
No plastic parts used in manufacturing
Vibration free.
Easy to clean & lubricate.
Suitable to shred bones, vials, garden waste disposal, food waste.
Control panel with D.O.L. starter & reverse inching facility with indicator lamps & push buttons.
Optional:- Stainless steel 304 grade enclosure.
Caution:- Do not feed metal objects such as the spoon, fork, coins, screwdriver, etc, to shred.
Common Features:-
Castrol Wheels for easy mobility
Continuous duty
Noise level-75-80db
High carbon steel cutters for long life.
5 years guarantee for cutter [Note:- Not for metal cutting]
We look forward to your inquiry for Bone Shredder Machine